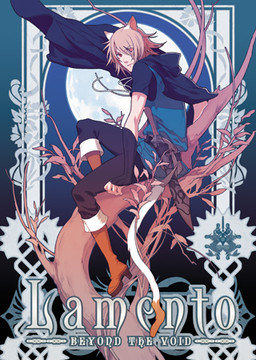 Welcome to the Lamento: Beyond the Void Wiki!
Lamento: Beyond the Void (stylized as Lamento -BEYOND THE VOID-) is a Japanese BL visual novel game with several routes and different endings depending on the choices you make throughout the game.
The game takes place in a fictional world inhabited by Ribika (who look like humans but have cat ears and tails). Their world has fallen into dark times -- a mysterious void has made some places (and even animals) impossible to touch, causing major food shortages. A strange and deadly disease that has killed off a large percentage of the female Ribika population is also spreading.
The hero, Konoe, exists in this miserable world, living alone in the starving village of Karou who have turned to cannibalism. The story begins with Konoe in Karou, where he suddenly begins to see horrible dreams and strange marks appear on his body. This is believed to be a curse so Konoe heads off to Ransen (the big city) in order to heal his body...
[From: aarinfantasy]
Lamento, its characters, places, objects, and official drama CDs (and anything else I've forgotten to include) are all the property of Nitro+CHiRAL. Neither I nor any who edit this wiki lay any claim to owning it. This wikia WILL contain spoilers!!
Main Characters
The vast world in which the events in Lamento take place.
Locations
Edit
Various lore is learned in Lamento, some are legends and others are fact.
Other Media
Edit
Drama CDs
Edit
Lamento- Beyond the Void- has been adapted into several book forms such as a manga series, a novel, and some official visual fan books. Unfortunately, none of these have been officially published in English, and only a small fragment of these have been translated by fans.
Lamento: Beyond the Void manga series (Completed with 2 volumes)
Lamento -Beyond the Void- expiatio
Official Visual Fan Book
Edit
Lamento -Beyond the Void- Official Visual Fan Book White Notes
Lamento -Beyond the Void- Official Visual Fan Book Green Notes
Soundtrack
Edit
Latest activity
Edit
Ad blocker interference detected!
Wikia is a free-to-use site that makes money from advertising. We have a modified experience for viewers using ad blockers

Wikia is not accessible if you've made further modifications. Remove the custom ad blocker rule(s) and the page will load as expected.